Today we are catching up with Tristan Cousin, Head of Operations for Haute Route, and Julie Royer Coutts, CEO, to better understand how the Haute Route is preparing to run events in the new Covid-19 driven world.
What does Covid-19 mean for an event organiser?
Julie: It goes without saying that the event industry has been heavily impacted by the pandemic and a huge number of sporting events have been cancelled in 2020. As an event organiser, we always have Plan B, C and D ready for whatever is thrown at us at the last minute.
But with Covid-19, I think it is fair to say we have all been caught off-guard. Early in the year, all our energy was put into dealing with the cancellation of events and making sure we were supporting all our riders during this process. It has no doubt been a challenging few months, but now it's time to look ahead and get ready for the future.
We are more determined than ever to give our riders the ultimate experience and are completely focused on making sure every part of that experience allows them to have their mind at ease and focus on what they love to do.
We are really looking forward to our two remaining events in 2020 - Haute Route Ventoux and Haute Route Mexico - and we have been working with government guidelines and expert authorities to ensure we can provide a Covid-safe environment for our riders, suppliers and staff, and still deliver all the support and services that makes the Haute Route so special.
Can you tell us more about the new measures that will be introduced during the events?
Tristan: As this has become one of our highest priorities, we have worked to bring together a huge number of reports and guidelines, as well as recommended processes made available by medical experts and governing bodies.
Our focus at the moment is to understand all of this information and decide the very best way for us to implement this into our events. We're thoroughly assessing each and every one of these recommendations and working with experts to ensure all areas of our events are within these guidelines. From distributing bibs, to startline processes, feed stations, prize-giving ceremonies and everything in between, every aspect of the event is being studied.
Riders love the Haute Route because of the attention to detail, and this aspect of the event will be no exception. We are working hard to ensure we can provide the same level of service riders are used to, with a safe environment where they can focus on what matters.
Masks, hand sanitiser and social distancing has become the norm for many of us and will be the absolute strict minimum when it comes to any event. However, we wanted to go much further in the protection of our riders to make them feel as comfortable as possible.
2020 event measures (for Haute Route Ventoux, October 2-4 2020):
1) Before arrival: To collect their bib, it will be mandatory for riders to sign a health declaration and agree to both the government controls and the Haute Route's additional measures during the event. We will be getting in touch with riders registered for the Haute Route Ventoux in the next few weeks to provide more details about this measure.
2) Temperature check on registration day: A temperature check with no-contact thermometer will be mandatory on registration day before rider packs and bibs are distributed.
3) Compulsory masks: Wearing a mask will be compulsory in specified areas, including all indoor service areas (lunch, massage until you are seated/laying down, registration desks) and also in the set starting area and feed stations.
4) Startline: The starting corral will have a strictly one direction flow and stages will start with groups of 50 riders. Each rider will also be required to wear a mask in the starting area.
5) Feed stations: Riders will receive individually-packed snacks included what they will normally find on our FeedStations, bars, gels, sandwiches and cakes.
6) Safety briefing: All briefings will be held outdoors, respecting social distancing guidelines.
7) Lunch: Lunch for riders will be a hot meal as usual and will be served by catering staff (no buffet).
8) Massage: Cleaning of the massage table after each session will be mandatory and therapist will wear masks. The massage tables will be spread in a large room and all our therapists will be tested pre-event.
9 ) Bib Collection: All items for each rider pack will be prepared in advance, in order to avoid queues and multiple collection areas.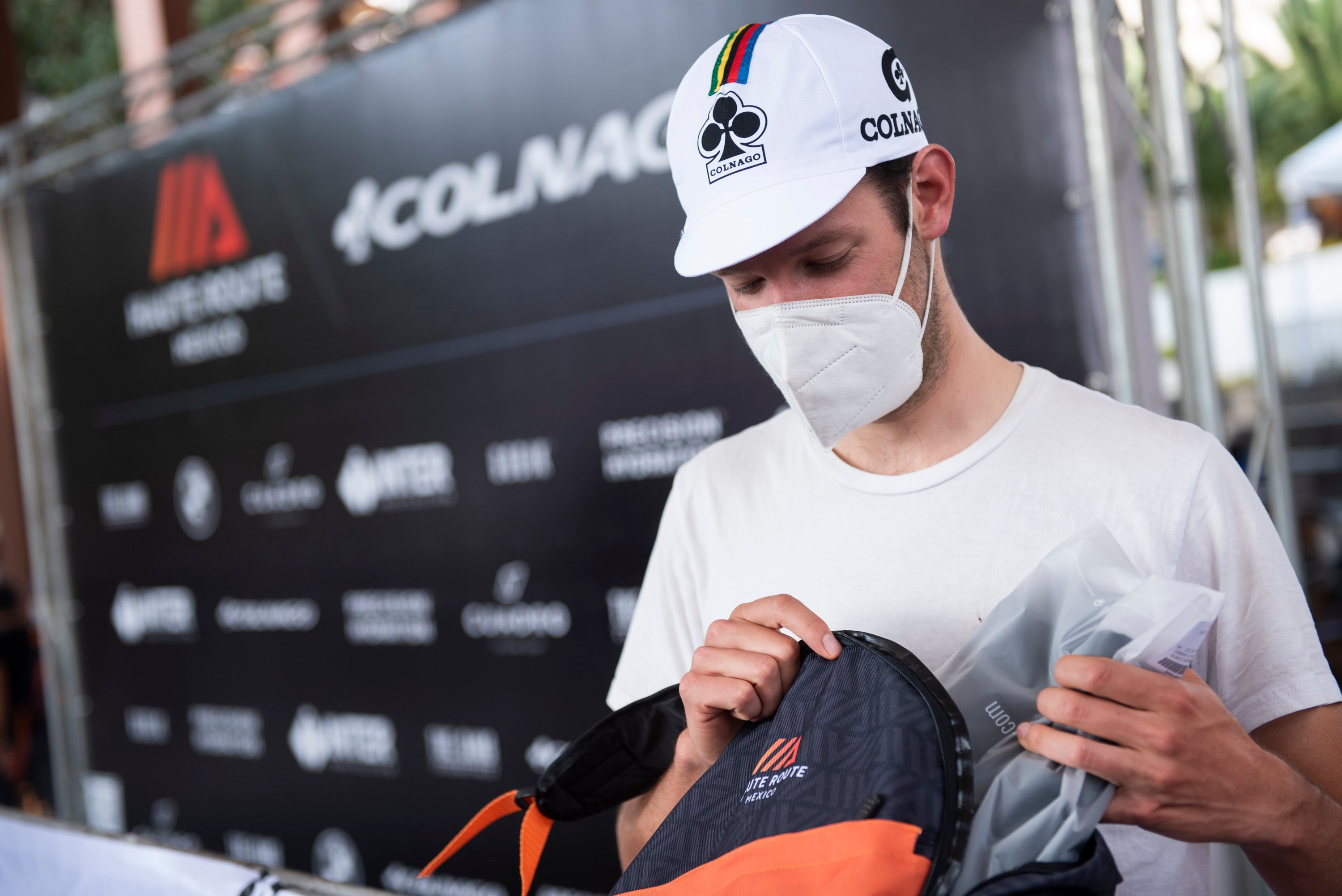 Colby Pearce